Introduction – Builderfly Ecommerce Platform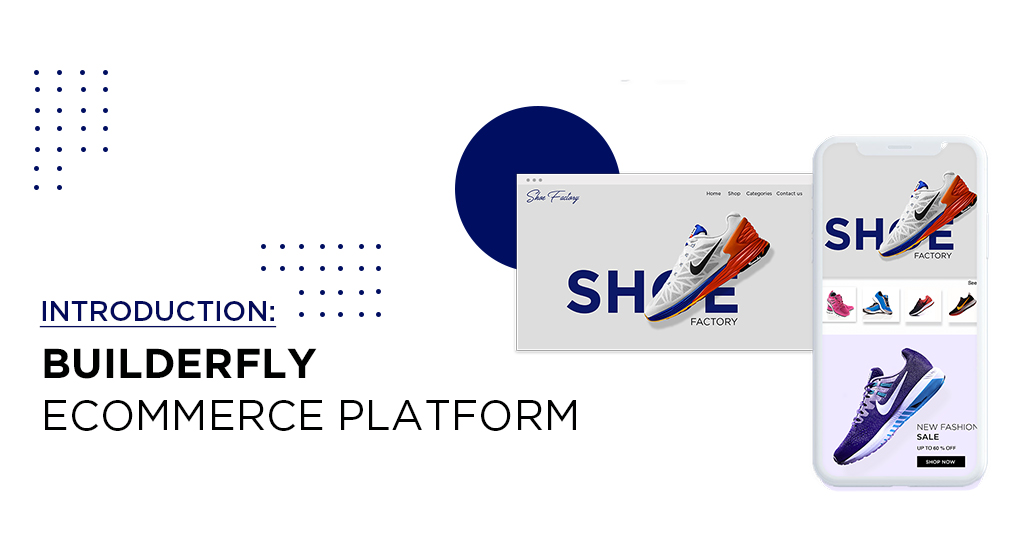 Hello All!
I hope that you are in your best of health! In the continuously growing world of ecommerce, let us today learn about one of the fastest-growing ecommerce platforms. An ecommerce platform is a medium that lets you create a customized online store without being a technical genius. Yes, you heard that right! If you have sellable products with you or you are willing to purchase products and sell them online, you can now create a gorgeous online store with Builderfly!
So, what is Builderfly?
Builderfly was established by Mr Hemant Kumar, the founder and CEO. His vision to create the most powerful ecommerce solution was actualized on 1st August 2019. We have our offices in the U.S., Delhi, Mumbai, and Ahmedabad. The massive venture of Builderfly is completely independent of external investments, liabilities, and debts. With continuous efforts from 2008 using innovative brains of over 200 dedicated IT professionals, developers, and marketers, Builderfly group has taken the shape of what it is today in the ecommerce market.
Builderfly is a completely do-it-yourself platform to create a stunning online store and mobile application. It includes creating an online store, adding sellable products, choosing templates from the marketplace, uploading pictures, processing and fulfilling orders, creating CMS pages, offering discount coupons, building powerful mobile applications, selling everything online at one platform and the list goes on.
The user can sell their products everywhere including online marketplaces, web, and social media platforms. Moreover, the selling platforms can be integrated into the Builderfly account and managed from one dashboard. Additionally, there is a 24/7 assistance from Builderfly to resolve any queries at every stage of the process.
What can you do with Builderfly?
Let me tell you!
Builderfly is a powerful ecommerce platform using Artificial Intelligence to give the best user experience. You can create a completely customizable online store and a personalized native mobile app using the power of AI without being a technical expert. You can design your store your way and focus on selling your products to the maximum customers. The first major feature of Builderfly, the Store Builder, let's you sell your products online with the world as your audience.
We have various tools to streamline your ecommerce business. Every template comes with its own intuitive settings. The connect domain option lets you connect your existing domain to the online store. The right use of Artificial Intelligence helps to sync data from the online store to the mobile app. You can design your app like a pro with Builderfly free themes, customize the themes, get AI-powered mobile apps on Android and iOS, and enjoy hassle-free app publishing within just a few steps.
In a nutshell: Builderfly is an all-inclusive solution to bring your offline business online. You do not need to be technically armed to start selling online. You get complete guidance in every step you take for your ecommerce store. Whether you are a wholesale seller, a retailer, or an individual; you can sell online with a few steps and a nominal fee. You got a bonus: A 14-day Free Trial Period!
Now, let us know some major perks of selling online with Builderfly!
Builderfly lets you enjoy integrated major payment gateways specially picked for you. You can use any credit cards from around the world to make payment with Builderfly. One of the major benefits of selling online with Builderfly is that, unlike other prominent ecommerce platforms, Builderfly leverages you with absolutely No Transaction Fee. The Startup Plan lets you start selling online without any monthly charges; a one-time set-up charge, sellable products, and some basic online selling strategies – you are good to go! With the Standard, Advance, and Pro Plans, you can get access to free Android and iOS mobile applications.
Why Choose Builderfly Over the Rest?
Let me answer you!
At all stages of business, there is No Transaction Fee with Builderfly. The in-built Google Analytics, SEO guide, and code editor allow you to optimize your storefront. Builderfly leverages the power of AI to help you connect with the people who are looking for you and transfer data from your store to the mobile app. Which means you do not have to re-enter every single data while creating your mobile apps. Great, right? Moreover, the Separate Design Editor for the store and mobile app helps you create a strong visual impact on your customers. Builderfly allows you to conveniently manage all selling points with a Single Backend Management. The Builderfly marketplace offers various Fully Functional Themes for Free.
Do you wish to know some USPs of Builderfly? Here they go:
You get access to iOS and Android mobile applications for Free.
The Annual Subscription Plan offers you an additional 10% discount.
There is No Transaction Fee with Builderfly which usually equals to 2% of the total sales.
Builderfly is equally beneficial for wholesalers, retailers, and any individual with sellable products.
You can avail a 24/7 customer support with answers to almost every query raised.
You are provided with detailed training documents, live webinars, ticket support system, blogs, user manual, FAQs, and Help Center for the smooth functioning of your ecommerce store.
The live chat system, email, and phone support instantly solve your queries.
You can enjoy one-year free maintenance of your store with Builderfly.
Every user gets the complete freedom to design their store as per their requirement without any hassles.
With Builderfly, you can sell your products on multiple sales channels on the go right from your Builderfly dashboard.
The Marketplace and Selling Platform of Builderfly make it a complete ecommerce solution.
Wait, did you hear Marketplace and Selling Platform? Yes, that is what completes the Builderfly Platform! The Marketplace is a massive platform for retailers/ wholesalers to list products to be sold directly to the customers. It is exclusively designed for both retailers/ wholesalers who own their online store as well as for the one who does not. Selling platform, on the other hand, is a catalyst platform that lets individual entrepreneurs sell products on their online website and sell them on multiple channels including WhatsApp, Facebook, and Instagram. Any individual can set up their online store using the selling platform without the need to manage the technical aspects. The selling platform is a boon to first-time entrepreneurs with complete backend support including the product storage, payments, collection, and delivery. It can be used by sellers as well as resellers.
Did I not tell you the features of Builderfly? Well, there are many! Let me give you a gist of all the features of Builderfly!
Number 1: Web-based store builder
It allows the customers to create an online website and sell products to reach the maximum customers at a go.
Number 2: Free mobile app
Builderfly provides a free mobile app with a distinct design editor that helps in differentiating the mobile app with the web store.
Number 3: Industry-specific professional themes
All the ready-to-use themes are specially designed by professionals based on different industries.
Number 4: Native IOS and Android Mobile App
The native mobile app is supported by both iOS as well as Android.
Number 5: Mobile Editor
The mobile editor allows the customer to customize the mobile app that best defines their brand.
Number 6: Fully customizable online store
The selectively picked themes can be customized to give the special touch f the customer's brand with Builderfly
Number 7: Unlimited bandwidth
The unlimited bandwidth allows the users to connect and build a clientele base without any limits.
Number 8: Unlimited storage
It allows the user to store unlimited data in the Builderfly store without any hassles.
Number 9: Instant feature updates
The user receives instant feature updates for the best experience.
Number 10: 99.98% uptime
Builderfly makes sure to avoid the store downtime and maintain the maximum uptime for the best results.
Number 11: Migrating and onboarding facility
If the user already sells products on a different platform, the data can be migrated and onboarded to the Builderfly store.
Number 12: Option to connect an existing domain
The user can connect an already existing domain to the Builderfly store to give an impactful store name.
Number 13: Free SSL certificate
The user can get a free SSL certificate to ensure the security of the store link.
Number 14: Customer profiles, accounts & groups management
The user can manage the customer profiles, accounts, and other groups, all from a single Builderfly dashboard.
Number 15: Order management
The orders placed can be efficiently managed by the user with Builderfly
Number 16: Email templates
The user gets ready-to-use email templates to send impactful emails to their customers.
Number 17: Marketing & SEO
On-page optimization and SEO tactics are provided with Builderfly for the right marketing.
Number 18: Photography
The user can request for professional photographers from Builderfly for high-quality product photography.
Number 19: Digital Marketing
The user can request to hire a digital marketing team from Builderfly to manage the marketing of their online store.
Number 20: Content management system
The content posted on the website can be curated and managed efficiently with Builderfly.
Number 21: Search engine optimization
Builderfly helps in building web traffic using search engine optimization.
Number 22: Sitemap indexing
Builderfly helps in indexing the user's website to increase the customer-reach.
Number 23: HTML and CMS editing facility
If the user has the know-how of coding, he/she can edit the HTML and CMS as per their preference.
Number 24: Social media integration
The user can integrate their social media selling platforms and manage the selling on multiple platforms using one dashboard.
Number 25: Unlimited product selling
All the paid subscription plans allow the user to sell unlimited products to their customers.
Number 26: Stock management
The user can manage the orders, tracking, storing, and the inventory with Builderfly.
Number 27: Gift cards
The user can choose to send gift cards to their customers to gift them the best experience.
Number 28: Abandoned cart recovery
If a customer abandons a cart, Builderfly sends the required action to be done to retrieve a customer.
Number 29: Automatic taxation
Based on the location of the store origin, taxation is managed by Builderfly.
Number 30: In-built Google Analytics
The in-built Google Analytics help in scaling the online store to the top.
Number 31: 24/7 monitoring and support
At all stages of business development, Builderfly offers monitoring and support services round the clock.
I told you, there are manyyyy!
Now when you know almost everything about Builderfly, it is time to disclose the pricing plans of Builderfly!
Builderfly pricing plan is designed for everyone including startups and well-established businesses. Moreover, the 14-day free trial period allows a user to explore the features and the know-how of Builderfly. There are four pricing plans with Builderfly, each of them which is crafted for different stages of business development.
Plan 1: The Startup Plan
It is the most popular and unique plan that best suits entrepreneurs, retailers, or manufacturers who are aiming to start building an online store. The key features of the plan include:
• Lifetime free plan
• One-time charge worth $99
• Domain connection
• 0% transaction fee
• Default theme
• Add and sell 25 products
• Sales limit of $5K
Plan 2: The Standard Plan
It is a plan that best suits customers who are in the rookie phase of business development. The interesting features of the plan include:
Monthly and annual subscription plan
• Subscription amount – $35
• 0% transaction fee
• Free native mobile app
• Online sales up to $50K
Plan 3: The Advance Plan
It is a plan that is specially designed for customers who have achieved significant online sales. The plan features are:
• Subscription amount – $75K
• 0% transaction fee
• Free iOS and Android mobile app
• Online sales up to $150K
Plan 4: The Pro Plan
It is specially designed by professionals for well-established online businesses. The discrete features of the plan include:
• Subscription amount – $195K
• 0% transaction fee
• Free iOS and Android mobile app
• Online sales up to $400K
Builderfly believes that business must be accessible to everyone. Be it a startup, be it a new business, or be it a business that is looking for growth, Builderfly is the perfect partner.
"Actions speak louder than words"
Rightly said; check out the exclusive features of Builderfly with the 14-day free trial period. Click on the link here to start your free trial today.

Also, do not forget to follow us on our Social Media Platforms!
https://www.facebook.com/BuilderflyEcommercePlatform/
Tweets by BuilderFly
https://in.linkedin.com/in/hemant-kumar-b019a260
https://in.linkedin.com/in/builderfly-social-866643180?trk=public_profile_browsemap_mini-profile_title
https://www.instagram.com/builderflyecommerceplatform/
With that, we end our tour to Builderfly. Thank you for participating in our webinar! We are all ears to your valuable feedback. Let us build a beautiful ecommerce store with Builderfly – your complete ecommerce solution!
Past Webinars
Test Webinar 25th august
you shall be securing your chance to participate in this expert interactive session as well as ask your queries to the host, directly, during the live webinar. The host for the webinar shall be answering and clarifying your queries instantly. Click on the link below to sign up for the webinar and get a chance […]
Read More
How to Create your Toy Store using Builderfly Ecommerce Platform?
Builderfly has been conducting free live webinars from a few months and we are sure, we have been able to cover all the major aspects in helping you create an outstanding online presence. Many of you might already be bombarded with sales from around the world. Well, we have more! This Friday, we have scheduled […]
Read More
Go onto a quick tour to Builderfly's Manage Section!
Welcome, everyone to the Live Webinar on A quick tour to Builderfly's Manage Section! Thank you for taking out your precious time in attending our webinar. I am Justina Jibin, your host for the session. Earlier, we had conducted two webinars to introduce Builderfly and to set up your Builderfly store within 10 minutes. Today, […]
Read More